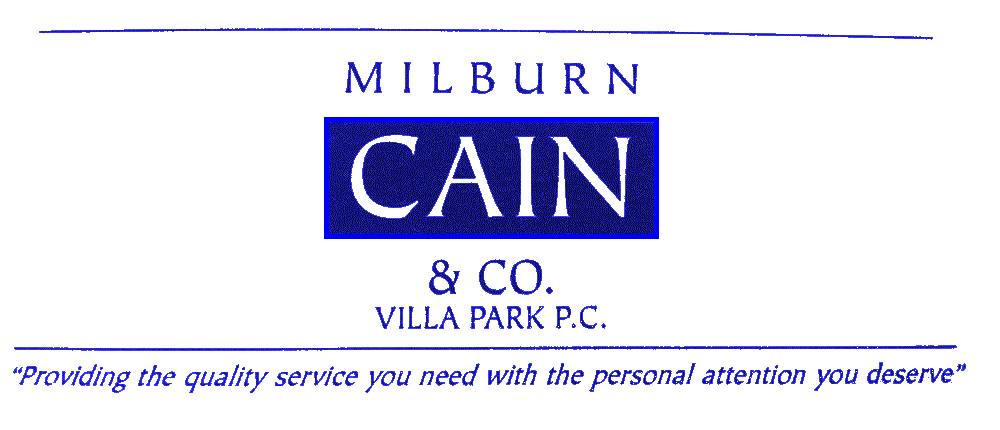 Individuals
Tax Preparation
The professionals at Milburn Cain & Co. have vast tax knowledge and "know their way around" tax forms. Since the firm was founded before the widespread use of computers, we have experience preparing tax returns with pencil and paper. While some may take that as we are old, we prefer to look at it as experienced and familiar with how information flows through a tax return. This means, one of the key differences of working with Milburn Cain & Co. is that we know that at times, there are choices on where information should be reported on a tax return, choices which will impact your tax liability. Our experience in previously preparing returns manually reinforced to us the best way to report information on a tax return to minimize your tax liability. We don't leave that choice up to a computer program, we make sure it is reported in the best way possible.
Tax Planning
As a full service CPA firm, we are available all during the year if you have questions regarding your taxes or are considering a financial transaction and want to plan for the tax consequences. We can prepare accurate projections of your tax liability, consult with you on ways to minimize that liability, or help you prepare so that when your return is prepared there are no big surprises. We know it is easier to minimize tax costs by properly structuring a transaction at the time it is entered into rather than dealing with it at the end of the year, when the tax returns are prepared. Therefore, we encourage people to contact us whenever there are changes in financial situations.
Tax Representation
We have represented audited taxpayers before the IRS and Illinois Department of Revenue at all stages of the audit examination. If you are under examination, we will assess the strength of the IRS position, organize the data, meet with the revenue agent and negotiate the best possible settlement for you. If the agent is unwilling to reach a reasonable agreement, we have experience escalating the process to the next level. In any case, you can be assured that you will be represented by knowledgeable and experienced professionals who will get you the best settlement possible.